Today I'm excited to introduce you to the SwiftLee Talent Collective — an initiative to connect engineers with exciting companies. One of the most frequently asked questions I get relates to how to find a new job or how to make the next career step. I wrote about Swift Jobs: How to make the right career move before, for which the SwiftLee Talent Collective can help you find the next career move.
In a heated market like today, it's challenging for companies to hire new talent. At the same time, you might be getting many impersonal recruiter messages on platforms like LinkedIn for jobs far from what you're looking for. Companies and talent curated by me personally should close the gap and optimize communication between both parties.
Paywalls Made Easy
Build and test paywalls with ease using RevenueCat's new native, remotely configurable paywall templates. Learn more here.
A curated list of Swift-related companies and talent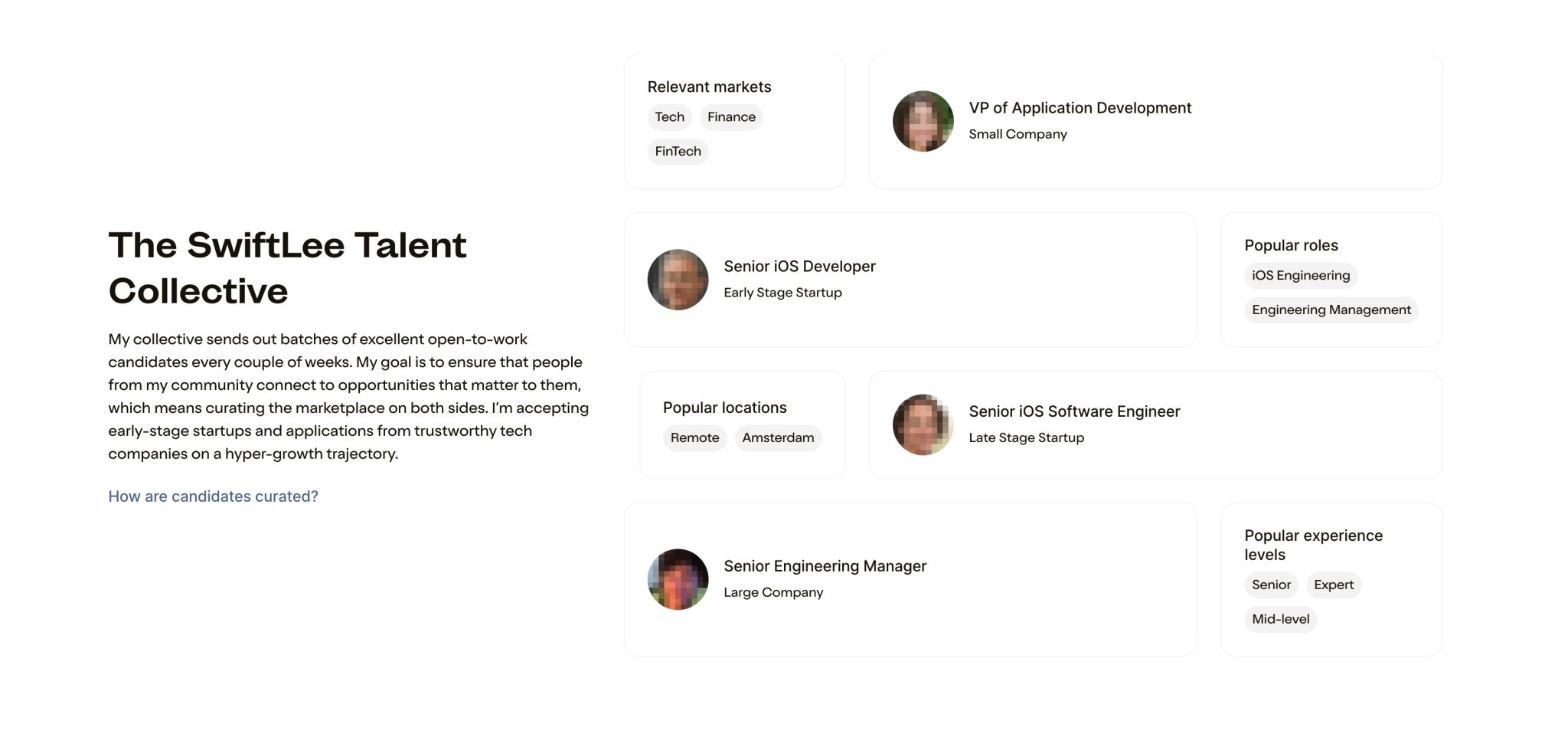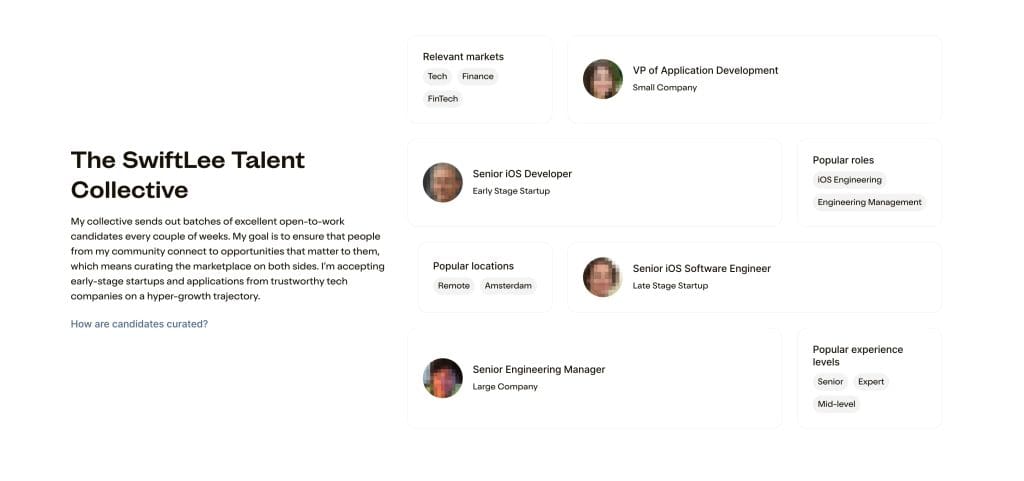 The SwiftLee Talent Collective and the companies getting access to the collective are both curated by me. This way, I can create a community of shared interest and lower the chances of mismatching talent with companies.
Talent drops

While companies and job openings can get added anytime, talents will drop every other week. This way, I ensure that each drop of talent will get the attention they deserve. Without bi-weekly drops, companies might wait for more talent before contacting.
SwiftLee Job Board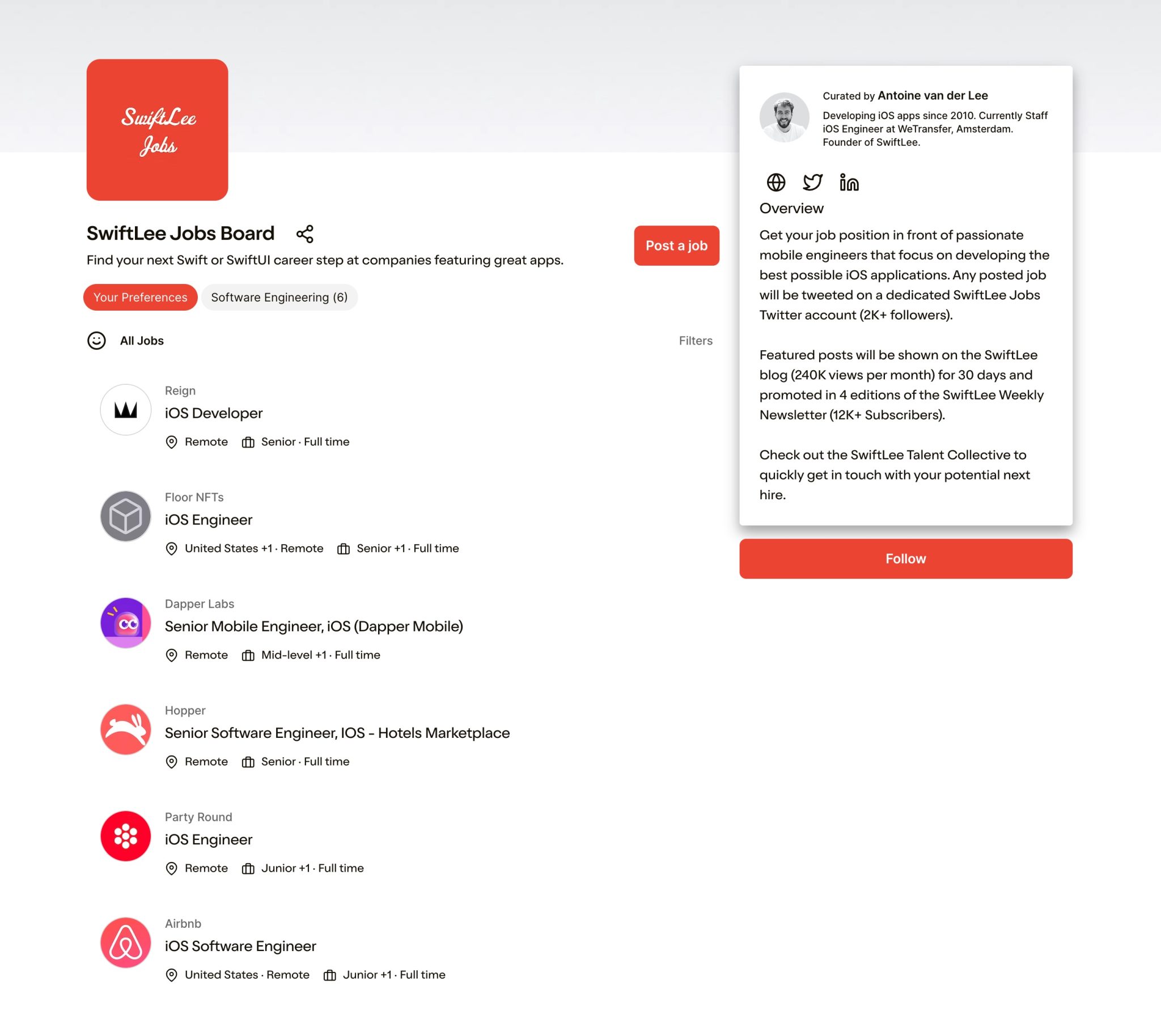 Besides connecting companies with talent through the collective, companies can also post open job positions on the SwiftLee Job Board. For those familiar with SwiftLee Jobs: you can see this as a replacement for my self-hosted service. I'll promote featured jobs in all SwiftLee articles and the SwiftLee Weekly newsletter. You can find more info further down this article.
Joining the SwiftLee Talent Collective

By now, I hope you're just as excited as I am about the SwiftLee Talent Collective. Therefore, I hope to see your application arriving in my inbox soon! You can join the talent collective from the welcome page.

But before you join, let me give you some tips on creating a great profile.
Increasing chances of getting accepted to the SwiftLee Talent Collective

That's right: not everyone gets accepted. I launched the talent collective a few weeks back with a small group of users and declined several profiles. You'll be surprised to see how many profiles nearly contain any details. It's important to understand you're trying to represent yourself as an engineer through the metadata you provide.

Therefore, I recommend focusing on the following:
Provide a clear job history. The more jobs you add, the better I can curate your experience.
Write a detailed description of who you are and what you're good at. Something like "I'm an iOS engineer looking for a job" is not adding any value. Try to impress with your personal story.
What are you looking for? To ensure the right companies reach out to you, you must write in detail what you're looking for.
Upload a clear profile image to make your profile more personal. Note that this isn't a deal breaker since I understand not all of you want to show your face on a job board.
I'm happy at my current job; should I still join?

I think it's always good to stay open for new opportunities and get a sense of the current job market. Joining the SwiftLee Talent Collective doesn't mean you're looking to leave your current job. You ensure you won't miss that unique opportunity you might be waiting for.
No obligations

There are no obligations for you after joining the talent collective. Companies can send you a message, but conversations will only continue after you reply to them. You could compare it to those dating apps where a conversation only opens after both parties start talking.
Hide from specific companies

You might be afraid to join since you don't want your current company to see you listed in the talent collective. Even though you might not be actively looking for a job, your current company might still be surprised to see you listed. Therefore, there's an option for you to hide from specific companies. You'll never get connected with your current boss or previous companies.
Stay anonymous

The SwiftLee Talent Collective is privacy focused and, therefore, allows you to remain anonymous. Companies will still have enough information to determine if you're a good fit, but they won't see any names before you get in touch with them.
Salary expectations

Another great filter to prevent you from getting unrelated messages is salary expectations. You can provide a salary range on applying to indicate to companies what you expect from a new job position. Doing so should allow you to not get any messages for job positions that won't be able to match your salary expectations.
I'm ready to join!

That's great; you can get started right here: Join the SwiftLee Talent Collective.
Companies interested in hiring

Hire from the SwiftLee Talent Collective, where you can find the best talent curated from my community.

Core value props for you as a business:
Curation. The SwiftLee Talent Collective is a vetted, invite-only group of talent that I curated.
Regular updates. I'll release talent drops at a regular cadence.
Pre-market talent. Many members of the SwiftLee Talent Collective haven't signaled anywhere else that they're open to new work.
How it works for you as a company

By subscribing, you will have access to the most recent and all future drops of talent curated by our community. Sort through the drop to find matches and request as many intros as you'd like. Once the candidate accepts the request, you'll be connected to them.
Get a featured listing for free

To celebrate the launch of the SwiftLee Talent Collective, I'm happy to invite you as a company with a free first month using the SWIFTLEETALENT100 coupon code. You'll be able to access the talent collective right away. You'll also be able to post featured job positions which I'll promote on all 200+ SwiftLee articles and inside the SwiftLee Weekly newsletter (12K+ Subscribers).

Make sure to read the Pallet FAQ related to businesses if you still have some questions left.

Paywalls Made EasyBuild and test paywalls with ease using RevenueCat's new native, remotely configurable paywall templates. Learn more here.
Conclusion

The SwiftLee Talent Collective strives to connect talent and companies that match profiles. As a talent, you can manage expectations, stay anonymous, and don't have any obligations. Companies can reach out to pre-market talents and find their new engineers faster.

Sign up here for the SwiftLee Talent Collective.